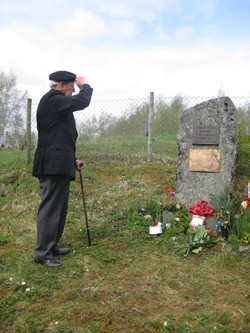 Tom Fowler. Photo: Kåre Bjerkan
Fallen fellow soldiers
Tom Fowler (91), together with a group of British veterans from the Second World War, attended a ceremony at the farm Krogs in Inderøy municipality May 18, 2010. The veterans paid respect to their fallen fellow soldiers with flowers. At Krogs the first real encounter between British and Axis ground forces during the Second World War took place.

Fowler had been looking forward to meet up on the day of the 70th anniversary, but he was stuck at home because of the ash cloud from Iceland.

Even if the the travel to Norway had to be postponed, the visit to Krogs brought up strong sentiments. Five men - Ronald Ballaam, of Grantham, Harry Prike, of Grimsby, George Roe, of Scunthorpe, George Humphrey, of Harlaxton and Ronald Smith, origins unknown - were killed in action at or near the farm and their names appear on the memorial plaque there.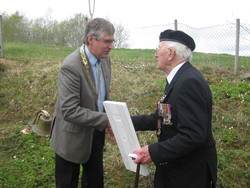 Mayor Tronstad handing Tom Fowler the official flag of Inderøy municipality. Photo: Kåre Bjerkan
Gifts and honour
The mayor of Inderøy, Ole Tronstad, greeted the English guests and other participants attending the ceremony.

Tom Fowler was paid extra tribute as the mayor was giving him the official flag of the municipality of Inderøy. Tom Fowler on the other hand gave the mayor a miniature statue as a memory from the visit.